50% Savings on Facebook Success Summit 2011
Social Media Examiner just announced it's annual Facebook Success Summit, which is 15 online webinars, delivered by some of the industry's top marketers beginning on October 15th.  
The 50% off early bird price is just $297 for all sessions
(including recordings in case you miss it), which is a steal, given what you get!  Read more below, and register before the price goes up!
Fast-track your Facebook marketing success.
Discover how to use Facebook to attract and engage quality customers and quickly grow your business.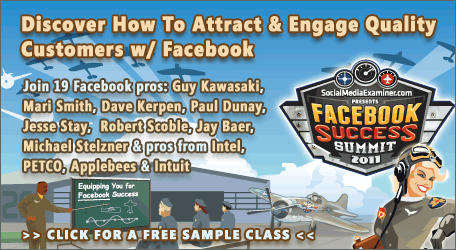 WHERE:
At

y

our

home or office! You attend this live event using your computer (no long-distance bill or travel expenses!).
WHEN:
Starting October 5, 2011 (spread over four weeks to improve learning and accommodate your schedule; scroll down for the full schedule). All sessions are recorded and transcribed as well.
WHY:
You'll be able to quickly implement effective Facebook marketing techniques, attract great customers and prospects and gain a unique competitive advantage. You'll also discover how to best measure the effectiveness of your Facebook activities and the newest Facebook marketing tactics. This event will ensure your Facebook marketing efforts are achieving their full potential.
HOW:
Registration is limited. NOTE: Our last summit sold out. Scroll down for the event costs.
Click here

to save 50% (lock in your early-bird savings before they're gone!) and secure your spot.
----------------------------------------------------------
Dear Fellow Marketer,
Are you using Facebook but not getting the results you hoped for? Could you use some guidance and fresh ideas? Yes, the promise of Facebook is strong: Direct connections with customers and prospects who were previously unreachable. This means greater exposure and more business opportunity - all without costly middlemen. And given this economy, who doesn't want more business? But if you're like me, you're looking to choose your Facebook activities wisely, without getting consumed by all the options. You simply want to know what works best. Social Media Examiner is happy to announce Facebook Success Summit 2011 - an online event designed to help marketers and business owners quickly achieve Facebook success.
Nineteen of the world's most respected Facebook experts have come together to share their strategies
(see the great line-up on the registration page).
They'll reveal all the latest techniques and proven business-building tactics you need to know
to immediately benefit from Facebook. If you (like so many) find yourself confused by all that Facebook has to offer, now's your chance to achieve Facebook marketing success. This
fully online conference starts Wednesday, October 5, and runs through October 25
. It's comfortably spread over four weeks (and recorded for later playback) to accommodate your schedule. There's no travel!
You simply attend from the comfort of your home or office
. Consider this:
96% of attendees at our last two events said they'd recommend the summit to a friend and attend again
. This year we have an all-new slate of dynamic professional development sessions fully focused on Facebook marketing. Be sure to
secure your spot in the largest online professional development conference for marketers seeking to master Facebook
. Here's to a bright future together!
Michael A. Stelzner Founder, Social Media Examiner and fellow marketer
When are the session dates? Here are the dates and times of each session. You automatically receive session recordings and transcripts, so if you can't make a live session, you won't miss a thing. Note: When you register, you'll get a downloadable schedule for Outlook, iCal or Google.
October 5, 5pm Pacific (8pm Eastern)

October 6, noon Pacific (3:00pm Eastern)

October 6, 1:15pm Pacific (4:15pm Eastern)

October 6, 2:30pm Pacific (5:30pm Eastern)

October 11, noon Pacific (3:00pm Eastern)

October 11, 1:15 pm Pacific (4:15pm Eastern)

October 11, 2:30 pm Pacific (5:30pm Eastern)

October 13, 1:15pm Pacific (4:15pm Eastern)

October 18, noon Pacific (3:00pm Eastern)

October 18, 1:15pm Pacific (4:15pm Eastern)

October 20, noon Pacific (3:00pm Eastern)

October 20, 1:15pm Pacific (4:15pm Eastern)

October 25, noon Pacific (3:00pm Eastern)

October 25, 1:15pm Pacific (4:15pm Eastern)

October 25, 2:30pm Pacific (5:30pm Eastern)
Have you been to the Social Media Examiner's Summits before? Are you planning on attending this year?
| | | |
| --- | --- | --- |
| | Add a Webinar | Visit our Webinar Calendar |
Create your own event
Turn your passion into a business.
Statistics
| | |
| --- | --- |
| | 9,174 |
| | The number of online events & webinars |
| | 2,415 |
| | The number of registered companies & users |